In today's competitive job market, a postgraduate management degree has become a vital stepping stone towards a successful career in business administration. The Post Graduate Diploma in Management (PGDM) program offers comprehensive knowledge and practical skills to aspiring professionals in India. In this blog, we will explore the various aspects of the PGDM Degree in India, including its types, specialisations, admission process, eligibility criteria, and course details.
Table of Content
1. What is the PGDM Degree in India?
2. Types of PGDM Degrees in India
3. Eligibility Criteria for taking Admission in a PGDM course
4. PGDM Specialisations
5. PGDM Admission Process
6. Is a PGDM degree worth it? Does it have enough scope?
What is the PGDM Degree in India?
The PGDM Degree in India, which stands for Post Graduate Diploma in Management, is a postgraduate-level management program offered by various business schools and management institutes in India. It is designed to provide students with a comprehensive understanding of the principles and practices of management in various domains.
While the term "diploma" is used, the PGDM program is equivalent to a master's degree in management. The program typically spans two years and covers a wide range of subjects related to business administration, including finance, marketing, human resources, operations, strategy, entrepreneurship, and more.
The PGDM curriculum is carefully crafted to equip students with the necessary skills and knowledge to become influential leaders, managers, and decision-makers in today's dynamic business environment. The program focuses on developing critical thinking, problem-solving abilities, teamwork, communication skills, and a strategic mindset.
The PGDM degree is highly regarded by employers and is recognised as a valuable qualification for various roles in the corporate world. It offers a practical and industry-oriented approach to learning, incorporating case studies, live projects, internships, and interactions with industry professionals. This exposure helps students bridge the gap between theoretical concepts and real-world applications, preparing them to tackle the challenges of the business landscape.
One of the distinguishing features of the PGDM degree is its emphasis on experiential learning and industry integration. Many institutes collaborate with companies and organisations, allowing students to gain hands-on experience through internships, industry visits, guest lectures, and workshops. These opportunities enhance students' understanding of business practices and enable them to build valuable networks and gain insights from industry experts.
The PGDM degree is a popular choice among students seeking to pursue a career in business management. Its practical orientation, flexibility in specialisation, and industry relevance make it a preferred option for those aspiring to enter managerial roles in corporations, start their ventures, or even pursue further academic research in management.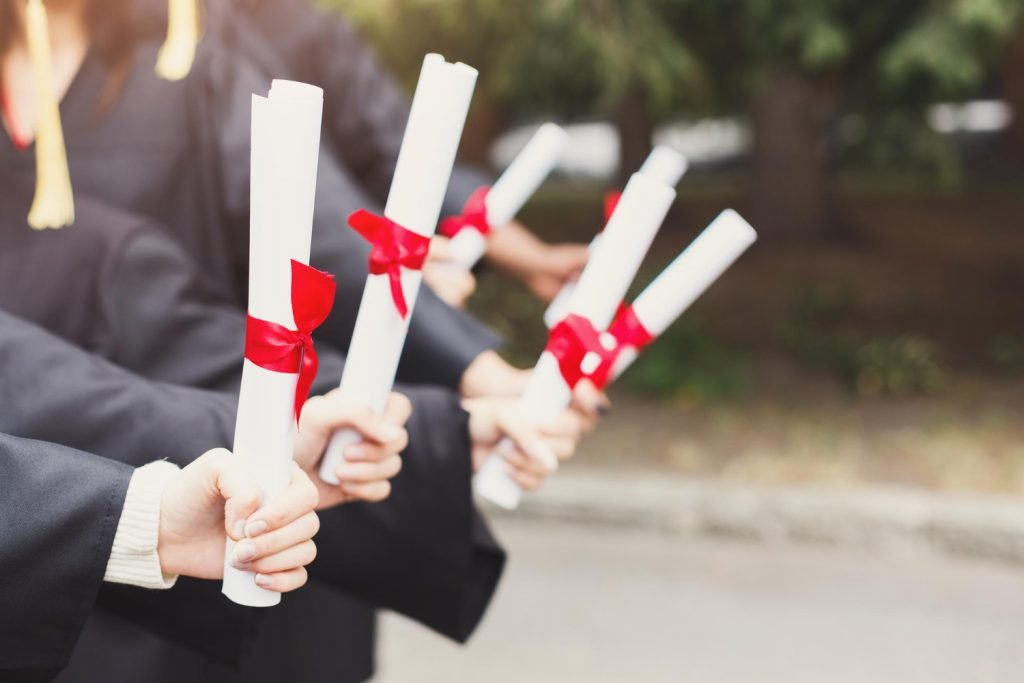 Types of PGDM Degrees in India
India offers a wide range of PGDM programs to cater to the diverse needs of students. These programs are provided by various business schools and management institutes across the country. Some of the common types of PGDM degree in India include:
Full-time PGDM: This two-year, full-time program provides in-depth knowledge in various management domains. It includes classroom lectures, case studies, industry internships, and experiential learning opportunities.
Executive PGDM: Designed for working professionals. The Executive PGDM program allows individuals to enhance their managerial skills while continuing employment. It typically consists of weekend classes, online modules, and industry-oriented projects.
Part-time PGDM: Similar to the Executive PGDM, the part-time program targets working professionals who prefer to attend evening or weekend classes. It offers the flexibility to balance work commitments with academic pursuits.
Online/Distance PGDM: Distance learning programs in PGDM have gained popularity due to their flexibility and accessibility. These programs leverage technology to deliver course materials, conduct virtual lectures, and facilitate discussions.
Eligibility Criteria for taking Admission in a PGDM course
It is important to understand that the criteria, as well as eligibility, are different in every institution. However, there are few general eligibility criteria that you have to fulfill if you want to get admission to the PGDM Degree in India.
Graduation in any field is a must-have
An aggregate score of 50% or more than that is vital in your graduation
Various institutions require passing few examinations like CAT, GMAT, XAT, or CMAT
In some institutions, you have to clear the complete interview process that includes essay writing, personal interview, group discussion, etc.
PGDM Specialisations
The PGDM degree offers a plethora of specialisations that enable students to specialise in their area of interest. Some of the popular specialisations include:
Marketing Management: Focuses on developing strategies for product promotion, market research, consumer behaviour, and brand management.
Finance Management: Equips students with skills in financial analysis, investment management, risk assessment, and corporate finance.
Human Resource Management: Concentrates on personnel management, recruitment, training and development, performance appraisal, and labour laws.
Operations Management: Emphasizes the efficient management of production processes, supply chain logistics, quality control, and project management.
International Business: Equips students with cross-cultural management skills, global marketing, international finance, and export-import procedures.
Information Technology: Explores the integration of technology and business processes, IT infrastructure management, database systems, and software development.
Entrepreneurship: Provides knowledge and skills required to launch and manage a startup, including business planning, funding, innovation, and entrepreneurial strategy.
PGDM Admission Process
Candidates must undergo a rigorous selection process to secure admission into a PGDM program in India. The following steps are typically involved:
Application: Candidates must complete the application form of the respective business school or institute. This includes providing personal details, academic history, work experience (if applicable), and a statement of purpose.
Entrance Exam: Most institutions require candidates to appear for a national-level entrance exam, such as CAT, XAT, MAT, CMAT, or GMAT. These exams assess candidates' aptitude in areas like quantitative ability, verbal ability, logical reasoning, and data interpretation.
Group Discussion (GD) and Personal Interview (PI): Shortlisted candidates are invited for GD and PI rounds. Where they are evaluated on their communication skills, problem-solving ability, leadership potential, and domain knowledge.
Academic Performance and Work Experience: Business schools also consider candidates' academic performance in previous degrees and relevant work experience, if any. This information is factored into the overall selection process.
Is a PGDM degree worth it? Does it have enough scope?
Pursuing a PGDM degree can be highly beneficial in today's scenario for several reasons:
Enhanced Career Opportunities: The job market has become increasingly competitive, and having a postgraduate management degree like PGDM can give you a competitive edge. Employers often value candidates with specialised knowledge and skills in management, making a PGDM Degree in India a valuable asset in securing better career opportunities.
Practical and Industry-Oriented Learning: PGDM Degree in India focus on providing practical knowledge and skills that are directly applicable to the business world. Through case studies, internships, industry projects, and interactions with professionals, students gain real-world exposure and develop the ability to solve complex business challenges. This practical orientation makes them well-prepared for the demands of the corporate environment.
Specialization Options: PGDM programs offer a wide range of specialisations, allowing students to focus on specific domains of interest. Whether marketing, finance, human resources, operations, or entrepreneurship, specialisation helps acquire in-depth knowledge and expertise in a particular area. This specialisation can open niche career paths and increase job prospects in specific industries.
Networking and Industry Connections: Business schools offering PGDM programs often have strong industry connections and collaborations. This allows students to network with professionals, attend guest lectures, and participate in industry events. Building a solid network during your PGDM journey can be invaluable regarding job placements, internships, and future career growth.
Entrepreneurial Skills: PGDM programs often emphasise entrepreneurship and provide students with the knowledge and skills to start and manage their businesses. This is particularly relevant in today's scenario. Where there is an increasing emphasis on innovation, startups, and entrepreneurial ventures. A PGDM degree equips aspiring entrepreneurs with the necessary tools and frameworks to navigate the challenges of entrepreneurship.
Personal and Professional Development: A PGDM degree is not just about acquiring academic knowledge. It is also a transformative journey that helps in personal and professional development. The rigorous curriculum, team projects, leadership opportunities, and exposure to diverse perspectives contribute to individuals' overall growth and maturity, preparing them for career leadership roles.
While pursuing a (PGDM Degree in India)PGDM degree can be advantageous, it is essential to consider factors such as the business school's reputation, faculty expertise, industry linkages, and overall return on investment. Researching and choosing a well-established and accredited institute that aligns with your career goals and offers a comprehensive and industry-relevant curriculum is advisable.
Pursuing a PGDM degree in India can be highly beneficial in today's scenario. It offers practical and industry-oriented learning, enhances career opportunities, provides specialisation options, facilitates networking and industry connections, develops entrepreneurial skills, and contributes to personal and professional growth. However, choosing a reputable business school and carefully considering the return on investment is important. Overall, a PGDM degree equips individuals with the necessary skills and knowledge to thrive in the dynamic world of business and management, making it a valuable asset in today's competitive job market.