Your journey to entering a PhD program begins with taking PhD entrance exams. To help you ace these entrance tests, you need to be aware that top universities also require an entrance test. Even if you have an undergraduate degree from a top university, this is true.
Get to know about all the details of a PhD Entrance Test in this blog.
PhD Entrance tests determine your knowledge in several categories required to get through. For the same, there are popular kinds of competitive tests.
Significance of a PhD Entrance Test?
PhD entrance tests are to evaluate the knowledge and ability of the candidate for PhD programs at various universities.
It is a common practice among by several universities worldwide, especially in India.
The admission test is usually a written test or an online test that assesses the research aptitude of candidates.
PhD admissions are often for the candidates with a master's degree in any subject.
Mostly, these candidates do not have any prior experience in research work. PhD entrance tests help universities understand if a candidate is eligible for pursuing a PhD course or not.
GRE( Graduate Record Examination ):
The Graduate Record Examination (GRE) is a computer-based exam that tests candidates' verbal, quantitative, and analytical writing skills.
The Educational Testing Service (ETS) conducts the GRE. Many graduate schools in the US/India and some other countries as part of their admission procedure.
The test consists of three parts – Analytical Writing, Verbal Reasoning, and Quantitative Reasoning. The Analytical Writing section measures critical thinking and analytical writing skills.
It consists of two essays written in 60 minutes, an Issue Essay and an Argument Essay.
The Verbal Reasoning section tests your ability to understand and analyze written material, evaluate arguments, and synthesize information obtained from it.
It includes about 200 questions answered in approximately 2 hours 45 minutes.
The Quantitative Reasoning section measures your ability to understand quantitative information, interpret and analyze quantitative information and solve problems using mathematical models.
It includes about 200 questions and has a time limit of 2 hours 45 minutes.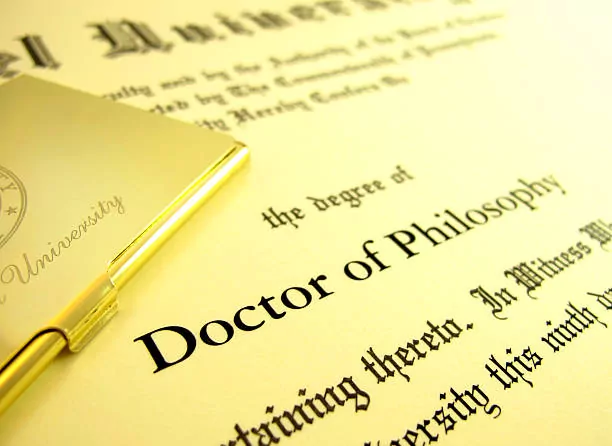 TOEFL:
Most US universities require a minimum TOEFL score of 100. Some universities also accept IELTS scores.

TOEFL (Test of English as a Foreign Language). It is an English language proficiency test that measures your ability to use and understand English in a university setting.
It evaluates your reading, listening, speaking, and writing skills to perform academic tasks.

The TOEFL exam is also by the Educational Testing Service (ETS). It has more than 4500 test centers in over 165 countries.

The TOEFL exam has four sections – Reading, Listening, Speaking, and Writing. Evaluation on a scale of 0 to 30 each, and the total score is out of 120. The total duration of the exam is 4 hours.
Subject-Specific Tests:
A PhD Entrance test can be complex, or simple. People can predict if the candidate are skillful for the course and would be able to handle the difficulties.
Entrance exams for PhD programs offer admission in various subjects offered at different universities or colleges. For a PhD course, a student needs to appear for the entrance exam related to their chosen subject.
Below are some of the tests that are subject-specific, seen at the national level in India:
UGC NET JRF – University Grants Commission National Eligibility Test Junior Research Fellowship
NET JRF is an exam by UGC twice a year, once in December and once in June. The test is at a national level in eighty-four subjects. At ninety-two selected NET Examination Cities spread across the country. Based on their scores, candidates most likely get a Junior Research Fellowship (JRF) and Lectureship/Assistant Professor eligibility that depends on their program choice.
After you complete all your technicalities through your PhD Entrance test. You start to prepare a Resume, Statement of Purpose, and Letter of Recommendation.
PhD entrance tests is about three things:
Familiarity with the test format, prepared with the basics of your field, and knowing yourself.
Most institutions offer a PhD Entrance Test. And it is always a nightmare for those who are applying for this course. The stressful tests will include many number series and complex mathematics questions, grammar questions, pacing and arranging the answers according to presented logic, etc. We hope that our guide has provided a helpful overview of some of the most vital information to consider.