If you want to work as an HR manager, you must have a Human Resource Management course. This article will discuss what HR management stands for and how it can help you become an effective manager in this field. HRM is an abbreviation for Human Resource Management courses in India, and it is a course that will help you understand how to manage people in your organization. The course focuses on performance management, employee relations, recruitment, training, and the development of employees. In this blog, we will also discuss about MBA in hr management that will make you more clear about your topic.
An HR management course is necessary for people who want to work in this field
HR management is an essential part of the corporate world. It's one of the most important departments in any company, and it can be considered its engine room. HR managers are responsible for everything related to human resources, including hiring candidates, training them, managing their performance and firing them if necessary.
HR managers also need to communicate with all employees regularly so that everyone knows what's happening inside the organisation from day-to-day operations as well as long-term strategies or plans that they have set up in advance (such as downsizing).
An MBA in HR management provides several career opportunities
An MBA in HR management provides several career opportunities. It is a necessary qualification for anyone who wants to work in the field of human resources or who wants to pursue further studies in this area.
HR managers are responsible for the recruitment and training of employees, as well as team member relations. They also need knowledge about policies and procedures related to employment issues such as maternity leave, unemployment compensation, etc., to provide efficient support when employees or their families need it.
There are several benefits of taking a course in HR management
There are several benefits of taking a course in HR management.
It provides you with a good understanding of the field.
HR managers are responsible for the employees and their welfare.
They need to understand how to motivate them and also deal with any problems that may arise from time to time (e.g., disciplinary action).
Being an HR manager is rewarding, but it needs skill and training.
HR managers are responsible for employees' recruitment, training and development.
HR managers are responsible for overall human resources management is an organization.
HR managers are responsible for employee relations and employee benefits.
They also take care of compensation issues like salaries, promotions and, bonuses etc., which is very important for an organization's growth & sustainability as well as efficiency & productivity
HR managers are responsible for hiring and firing employees. They also ensure that the company complies with all federal, state and local laws protecting workers' rights. HR managers oversee training programs to improve employees' performance and ensure they are qualified for the tasks assigned to them.
What is Human Resource Management?
Human resource management is the study of human resources, which includes all aspects of managing people in an organization. HRM is a management function that incorporates the processes and activities associated with recruiting, selecting and hiring employees; training them; paying them fairly; appraising their performance; developing their careers through succession planning/hiring/termination processes.
HR management is a multidisciplinary field that draws from economics, organizational behavior and psychology. The goal of HRM is to maximize the performance of an organization through effectively managing people and resources. This includes aligning human capital with business objectives and creating value for customers, shareholders, partners and employees.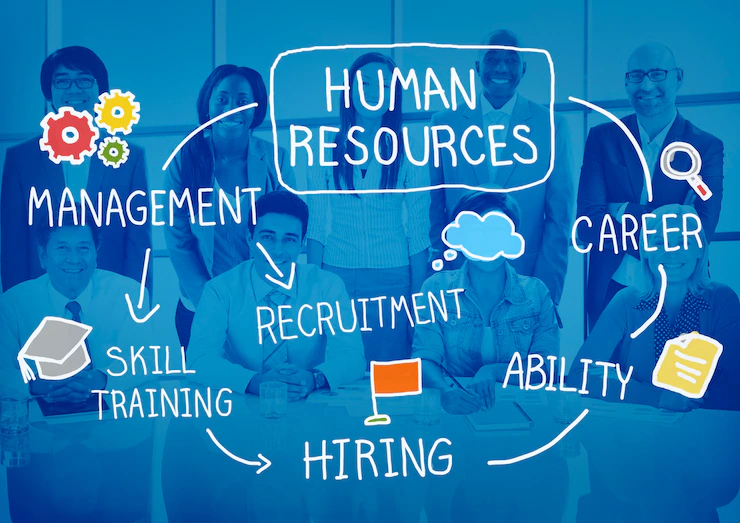 Management Courses in India
There are many management courses that you can take in India. The MBA in HR management is one of the most popular ones, as it provides an opportunity to explore career options and gain knowledge about different aspects of HR management.
Human Resource Management courses in India are offered by many reputed institutes. Including the Indian Institute of Management (IIM), Indian School of Business (ISB), National Institute of Industrial Engineering (NITIE), Jamnalal Bajaj Institute of Management Studies (JBIMS) and many others. The MBA in Human Resource Management courses in India covers all aspects of human resource management, including recruitment and selection, employee training and development, compensation & benefits and organizational culture. 
MBA in HR Management courses
An MBA in Human Resource Management courses in India is a postgraduate degree that prepares. You to lead and manage large organizations. This course will help you develop the skills needed to implement HRM strategies, including recruiting, training and development, compensation & benefits administration, performance management systems design and implementation, and legal compliance. 
An individual who has completed an undergraduate degree in Business Administration (BBA) can pursue an MBA in HR management. If they have three years of experience working as a human resource manager or equivalent position within their organisation before enrolling in this course. They must also have at least one year's worth of work experience outside their current field before applying for admission into this program. 
Are Management Courses in India valuable?
Yes! You can get a good management degree from a reputed university in India, and it will be worth the money.
Many management courses are available in India. Some of these courses include
MBA (Master of Business Administration) – This course is offered by some of the best universities in India, such as Indian Institute of Management Ahmedabad (IIMA). Indian Institute of Management Bangalore (IIMB), National Academy for Educational Research & Development Allahabad and also at other leading institutes. 
PGDM – It stands for Post Graduate Diploma in Management Programme, an entry-level qualification for those. Who want to pursue their career as an HR professional or manager at any level within organizations such as multinational companies or even small businesses. MBA-HRD – This programme caters specifically to preparing HR professionals to work effectively towards improving employee engagement within their organization. PGDCA – This course focuses on leadership development through individualized coaching sessions with experts on various aspects, including team building strategies, etc.* FDMBA – It is an advanced version of DMBA which helps students become certified professionals. At the same time, they continue learning new skills throughout their careers. 
HR management is an area of study that involves the systematic planning and implementation of personnel policies and programs that are aimed at improving the performance of employees. Human Resource Management courses in India is crucial because it helps manage people efficiently. If you want to learn about Human Resource Management courses, then we have written this blog for you. We hope that you will find it helpful and informative.
Frequently Asked Questions