The MBA is the world's most popular graduate management degree. Employers love it and students can't get enough of it. Thousands of ambitious professionals apply to different types of MBA programs each year.
As a generalist degree, the MBA gives you fundamental management knowledge. Meaning you'll get a holistic view of the business across areas like marketing, finance, and accounting. All while developing those vital soft skills and leadership skills.
Famous MBA alumni include CEOs of multinational companies, successful entrepreneurs, and former Presidents. George W. Bush, Michael Bloomberg, Tim Cook, Satya Nadella, Sundar Pichai, and Sheryl Sandberg—all have MBAs.
So what can you do with an MBA degree? What types of MBA programs are available? And is an MBA worth it?
What does MBA stand for? MBA definition
MBA stands for Master of Business Administration.
First came to light by Harvard University Graduate School of Administration in 1908 (now Harvard Business School). The MBA is the original graduate degree in business colleges globally.
Having an "MBA" on your resume will help you stand out to employers. But the true meaning of the MBA goes beyond three letters on a sheet. During an MBA, you'll build your business knowledge, grow your professional network, and boost your career and salary prospects.
Who is an MBA degree for?
There is no typical MBA student. While historically MBA students went for careers in finance or consulting, the average MBA class involves students from a wide variety of professional backgrounds.
There are 69 nationalities studying in the Harvard MBA class of 2022. Forty-four percent of students are women and 45 percent are US minority students. Students come from the technology industry, manufacturing, healthcare, nonprofits, the media, and the military, as well as finance and consulting.
At INSEAD, 88 nationalities are in the MBA class and students come from academic backgrounds ranging from business and engineering to the arts and political sciences.
According to the Graduate Management Admission Council (GMAC), the top career motivations for prospective MBA students include: salary increase, promotion to senior positions, managing people, and working internationally—and these benefits are just some of the many reasons to get an MBA.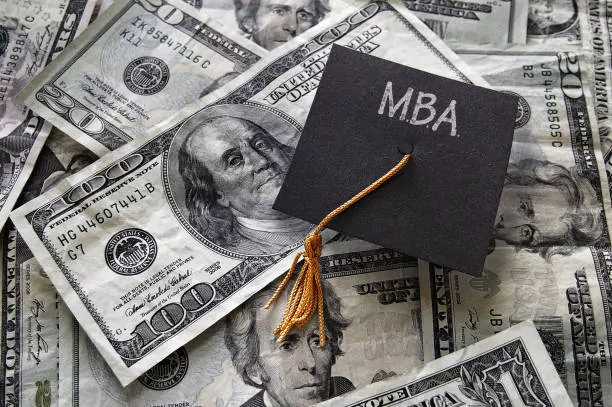 Whatever your background, if you want to learn management skills and advance your career, the MBA is for you; whether you want to start your own business, progress within your current company, switch function, industry, location, or all three at the same time.
"An MBA is not just to equip students for their next job post-graduation; it's a life-changing experience that enables students to make career changes even 15 years post-MBA. Thanks to the skills they learn and the network that lasts long after graduation," says Virginie Fougera.
Requirement of the degree:
If you want to work in a business environment, your MBA will often be a requirement for any high-level job.
There are many reasons for this, the most prevalent being that business schools are very competitive and only accept the top candidates.
Because of this, these candidates have proven that they have the drive and motivation to succeed.
This is an important prerequisite when hiring a person as they can represent your company to their utmost ability and bring in revenue at the same time.
An MBA shows not only drive and motivation but also a wealth of experience that is hard to aim for without first getting an education.
The best way to get the most out of your MBA is by finding what works best for you.
What has been found successful by others is not guaranteed to be successful for you personally.
You evaluate whether or not attending an MBA program is good for you by closely evaluating your goals and interests, finding out how people succeed in these programs, researching how much debt you would exceed in acquiring a degree, and considering what else you can do with your time.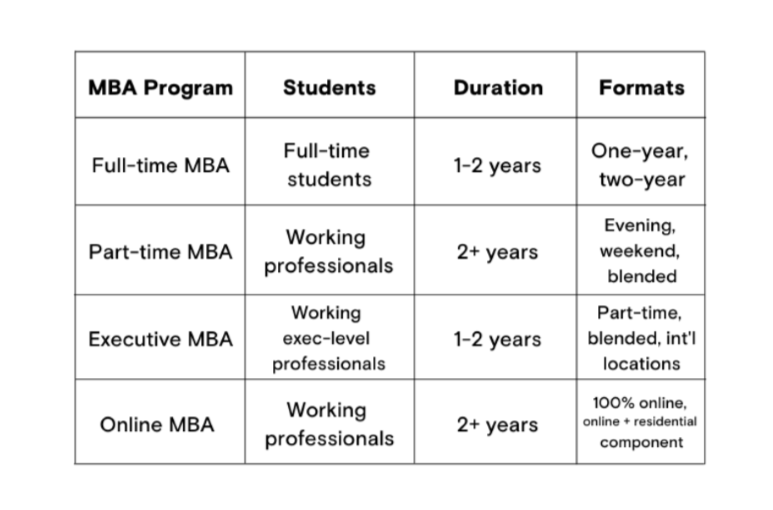 Full-time MBA
The full-time MBA is the original, immersive, on-campus experience, designed for early and mid-career students who may be looking to completely change their career paths. The two-year, full-time MBA program is the most popular in the United States by the group of elite M7 Business Schools.
The one-year MBA is especially popular in Europe and Asia, offering an accelerated experience and less time out of the workplace, although full-time MBAs come in a variety of formats. INSEAD's MBA takes just 10 months to complete, while London Business School offers flexible exit points after 15, 18, or 21 months of study.
Part-time MBA
The part-time MBA allows you to combine work and study, meaning you don't miss out on your salary and the opportunity cost of pursuing a full-time program. Part-time MBA classes typically take place in evenings, on weekends, or in flexible modular formats, combining online learning with in-person sessions.
Executive MBA
The Executive MBA is a part-time MBA program for experienced, executive-level professionals with over 10 years of work experience. EMBA programs bring senior leaders together to upskill, network, and knowledge share, with participants bringing their professional projects into the classroom.
Online MBA
The Online MBA is a super-flexible, part-time MBA experience, allowing you to continue working while studying from the comfort of your home. Online MBA programs typically require a residential component (1-2 weeks), although there are an increasing number of 100 percent-online MBA programs. Many online MBAs also allow you to pay per module and plan your own study time. This means durations for online MBA programs can vary, although most take around two years to complete.
An MBA Degree is worth changing your life, but with immense competition, students lack to show their differences. Hence, these diverse forms to pursue an MBA degree will help you score a better and more fun degree in the future.