What is BBA/MBA admissions? It is the procedure for a student for admissions into a particular business school for undergraduate studies or postgraduate studies (e.g. an MBA), mostly when the student has received a bachelor's degree from an accredited institution. Basically, it's a process that helps students gain access to business graduate programs.
Becoming an MBA or BBA graduate is the stepping stone for a great career. Many business schools acknowledge that there is a high demand for quality business people in the modern corporate world.
Like many, you might be wondering about the meaning of BBA/MBA admissions. This process generally determines the rank of a candidate for admission and scholarship.
Confusions will come down the road!
Especially when compared to other admissions processes of different countries. If you are reading this blog to seek information related to the admission procedure, you will find a detailed look into BBA/MBA admissions below.
What are BBA/MBA Courses?
A lot of students are choosing to pursue dual bachelor's/master's degrees in business, and that's all well and good. But there are some things to consider when you're at the point where you're about to apply for your MBA.
One of the first things you'll have to do is decide which MBA program to apply for.
This can be a difficult choice, since there are a lot of schools with varying reputations. Some programs have higher acceptance rates than others—if yours is one of those, it might be tempting to accept an offer from that school, even if it isn't your first choice.
But beware many people who do this end up regretting it, because they find themselves unhappy with their program or even not receiving the degree they wanted in the end.
That's why you should always research as much information as possible about every school you're interested in before deciding whether or not to accept an offer..
If you already know what kind of specialization you'd like to get out of an MBA, you should look for schools that specialize in that area and have a good reputation in it.
For example, if you know that your ultimate goal is to work on Wall Street and become a financial analyst, you should look for schools with strong finance programs.
Rewinding back to the early days of business education, you can see how the two degrees are different.
A BBA is often focused on business fundamentals and is often seen as a stepping stone for students who want to advance in their careers without going straight into an MBA program.
An MBA is typically geared toward executives who want to learn the theory and research behind the business world before pursuing a high-level position. Either option can be good for someone looking for a career change or advancement.
The BBA course is more applicable to lower-level positions where an MBA might be overkill while an MBA can be helpful to someone who wants to be at the top of their field.
How to Get Admission?
Applying to business school is a complex process that can seem overwhelming when you start to consider all of its various facets. To simplify the process and make it more manageable, here is an overview of the basic steps involved:
Choose your program of study
BBA – Bachelor's in Business Administration
MBA – Master's in Business Administration
Take standardized exams
GMAT – Graduate Management Admissions Test
GRE – Graduate Record Examination
The first step is to get through the screening process. You should have the required scores and grades to qualify in this part of application process. If you do not get enough marks, you will immediately be put out without any further consideration.
The second step is to clear the entrance tests such as CAT (Common Admission Test) or MAT (Management Aptitude Test). These tests are by the IIMs and other institutions that offer MBA courses.
The third step is a personal interview. Here, there will be questions regarding your academics, work experience, extracurricular activities, etc.
The final step of the admission procedure is a group discussion. Here, your ability to think on your feet and confident speaking will come in handy.
For example, if you are representing your college, then you have to sell the college well and convince others about the strengths of your colleagues over others during this discussion session.
Difference Between BBA and MBA:
For those of you who are seeking a career in business or organizational management. Or have an interest in studying business as an academic subject. It's important to understand the difference between a BBA and an MBA. Both programs involve similar core courses, but the differences between them are what set them apart. Understanding these differences is crucial to making the right decision for your future.
A business degree prepares students for a variety of career tracks. From working in the financial sector or non-profit organizations to managing a company.
BBA programs are more likely to focus on general business skills and courses that are useful in many different industries.
MBA programs include specialized courses that teach students everything they need to know about one specific industry. Such as finance or real estate.
The types of careers that graduates with MBAs can go into- are generally more prestigious and better-paid than those available to BBA grads;
However, this is not always the case, and some employers prefer the practical knowledge gained through the BBA program.
If you're into pursuing an MBA, it's best to make sure you choose a school that's right for you.
It's important to remember that there are no set requirements for either type of course. Many BBA schools also offer MBA programs, and an advanced degree isn't necessary for most entry-level jobs.
Aimlay Pvt ltd offers both a Bachelor of Business Administration (BBA) and a Master of Business Administration (MBA). Which makes us a great choice for anyone who wants to pursue both options! Visit our website for more information about each program.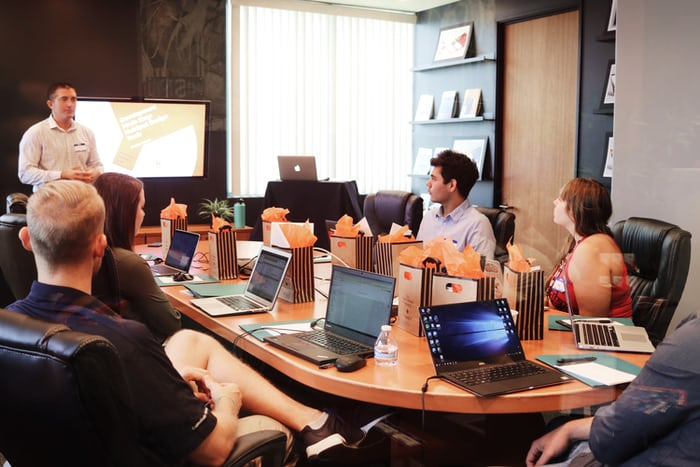 The BBA (Bachelor of Business Administration) and MBA (Master of Business Administration) are two different degrees. These have the same basic goal: training a person to become a successful manager in the business. Both of these programs provide students with the foundational knowledge to make decisions as an employee, entrepreneur, or business owners.