A research paper explains the results of original research as well as relevant theories and previous research. Researching, planning, drafting and publications of these papers are the core foundations of most higher education programs.
People will feel challenged and intimidated during their experience with research papers. There will be higher levels of stress while writing it, formatting it and perfecting it with references, citations and a bibliography. 
If you take it one step at a time, then you will be able to handle the process. The key is to keep calm and focus on the task at hand.
Set context
Set context. Most research papers begin with a thesis statement at the end of an introductory paragraph. Even if it's not a requirement, it's a good idea to write a thesis statement as you begin to organize your research.
Writing the thesis statement first is helpful because every argument or point you make in your paper should support this central idea you're putting forward.
Most research papers fall into one of three categories: analytical, expository, or argumentative.
If you're presenting an analysis of information, then your paper is analytical.
Whether you're writing to explain information, then your paper is expository. If you're arguing a conclusion, then it's argumentative or persuasive.
Your thesis statement should match the type of paper you're writing.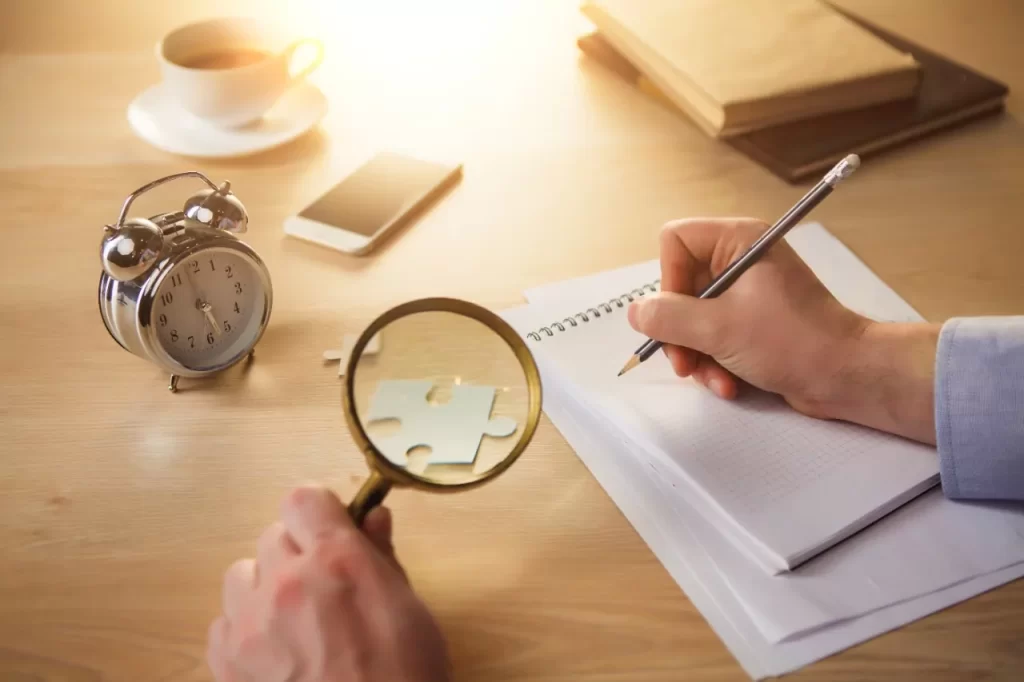 Present your Thesis Statement
Your thesis statement is the main point of your paper and should address the paper topic assigned by your instructor. Include an opposing viewpoint to your opinion/main idea, if applicable. This should be an argument for the opposing view that you admit has some merit, even if you do not agree with the overall viewpoint in the research paper.
Steps –
Present the main ideas or arguments of each source.
Compare and contrast information between sources to determine what is most credible or important to include in your paper.
Write each body paragraph with one main idea, and include supporting details from each source as evidence to support that main idea (optional).
Write a conclusion paragraph that summarizes what you have learned by developing this topic and restate your thesis statement.
Present your Evidence
The evidence you present to your readers can be in the form of facts, statistics, and pieces of information that support your main argument.
This can also come in the form of quotes from people you interviewed or research paper findings.
Once you have presented your evidence, explain how the evidence supports your claim.
Develop an Outline for the Paper:
Research papers are complicated and time-consuming assignments and what is really important they make up a large part of student's grade in all classes.
It's not a secret that academic writing is hard but written communication skills are essential for your success in college, graduate school, and in your future career.
That is why you need to pay careful attention to the research paper outline.
As it will greatly simplify your future work and make the process of creating an assignment much simpler.
The outline may greatly differ depending on your professor's requirements, so you should first obtain all the guidelines.
However, it is almost always required to prepare an outline before you write the real thesis statement.
Take Time to Edit and Proofread the Paper
Remember, you are not setting out to conduct research in order to prove a point. A good research paper addresses a specific research question.
The question you choose should lead you to a testable hypothesis that you can prove with strong arguments.
Don't be afraid to revise your topic based on new information you've learned during your research.
You have finally finished your research paper and now you are wondering how to write a research paper.
The first thing that you should do before anything else is to take the time to edit and proofread your paper.
It is very important that you make sure that the paper has no mistakes in it.
The best way to edit and proofread your research paper is by reading it out loud.
This will help you catch mistakes that you might not see otherwise.
After reading, then you can go back and try to fix any errors that you find.
You should also make sure that there are no spelling errors in your paper as well.
If you are tasked with writing a research paper or perhaps you've been looking for an opportunity to complete a research paper of your own, either way this guide should be able to help you to develop the skills needed to accomplish your goals. I hope that it will provide some guidance on how you can write exactly the paper that you need to.