In the vibrant tapestry of India's educational landscape, the pursuit of excellence in pharmaceutical education stands as a cornerstone for innovation, healthcare advancement, and the betterment of society. As we usher in the year 2023, aspiring pharmacists across the nation brace themselves for an exciting and competitive journey toward securing a coveted spot in Bachelor of Pharmacy (B.Pharma) programs. This pivotal moment holds the promise of a transformative education that confidently embarks on this educational voyage of pioneers of medical advancements.
The realm of pharmaceutical education is a dynamic amalgamation of science, research, and patient care, making the quest for B.Pharma admission an endeavor of paramount significance. This year, the admission process comes adorned with challenges, opportunities, and intricacies. With an eye on providing comprehensive guidance, this blog unravels the multifaceted aspects of B.Pharma Admission 2023 In India, equipping aspirants with the insights and knowledge they need to confidently embark on this educational voyage.
Table of Content
1.B.Pharma Admission 2023 In India: Entrance Exam
2. Entrance Exam Schedule
3. Entrance Exam Syllabus
4. Entrance Exam Prerequisites
5. B.Pharma Admission Process 2023
6. B.Pharma Admission 2023 In India: Eligibility Criteria
7. Top Specializations in B.Pharma Admission 2023 In India
8. B.Pharma Admission 2023 In India: How to Apply?
9. Top B.Pharma Best Universities
10. B.Pharma Career Aspects and Scope
11. B.Pharma Admission 2023 in Private College
12. B.Pharma Admission Tips 2023
13. Frequently Asked Questions
B.Pharma Admission 2023 In India: Entrance Exam
Aspiring pharmacists keen on pursuing a Bachelor of Pharmacy (B.Pharma) in 2023 must be well-prepared for the entrance exams. These exams serve as a crucial gateway to securing admission in reputable pharmacy institutions across India. The fierce competition makes it essential for students to understand the intricacies of the admission process.
Entrance Exam Schedule
Countless candidates eagerly await the entrance exam schedule for B.Pharma admissions in 2023. These schedules are typically announced by various universities and institutions offering pharmacy courses. Students must remain vigilant and stay updated on the exam dates to avoid missing out on crucial opportunities.
Staying Ahead: Early Awareness and Preparation
Aspiring pharmacists must don the mantle of vigilance and preparedness to stay ahead in the race. Knowing the entrance exam schedule well in advance allows candidates to tailor their preparation strategies effectively. It provides a clear framework for creating study plans, allocating time for revision, and fine-tuning weak areas. This proactive approach alleviates last-minute panic and instills confidence in facing the challenges posed by entrance exams.
Sources of Information and Updates
The reliable sources of information for entrance exam schedules are the official websites of the institutions or universities offering B.Pharma programs. These websites typically release detailed notifications, including exam dates, registration windows, and other relevant information. National-level education boards and newspapers are also credible sources for exam-related updates.
Navigating Potential Challenges
While entrance exam schedules are thoughtfully crafted, candidates should be prepared for unexpected changes. Weather disruptions, unforeseen events, or administrative alterations can lead to the rescheduling of exams. Therefore, keeping a close watch on official communication channels and maintaining flexibility in planning is essential to tackle such challenges.
Entrance Exam Syllabus
An in-depth understanding of the entrance exam syllabus is imperative for aspirants. The syllabus usually encompasses Physics, Chemistry, Biology, and Mathematics. A comprehensive grasp of these subjects is necessary to perform well in the exam.
Entrance Exam Prerequisites
To sit for the B.Pharma entrance exam, candidates must fulfill specific prerequisites. These may include age limits, educational qualifications, and sometimes even domicile requirements. It's essential to review the prerequisites for each institution to ensure eligibility thoroughly.
B.Pharma Admission Process 2023
The B.Pharma admission process for 2023 typically involves several stages, including the entrance exam, merit list publication, counseling, and final admission. Institutions may also consider the scores of national-level exams like JEE or state-level pharmacy entrance exams for admission.
B.Pharma Admission 2023 In India: Eligibility Criteria
Understanding the eligibility criteria is fundamental before applying for B.Pharma Admission 2023 In India. Generally, candidates need to have completed their 10+2 education with a science background. The minimum percentage required can vary from institution to institution.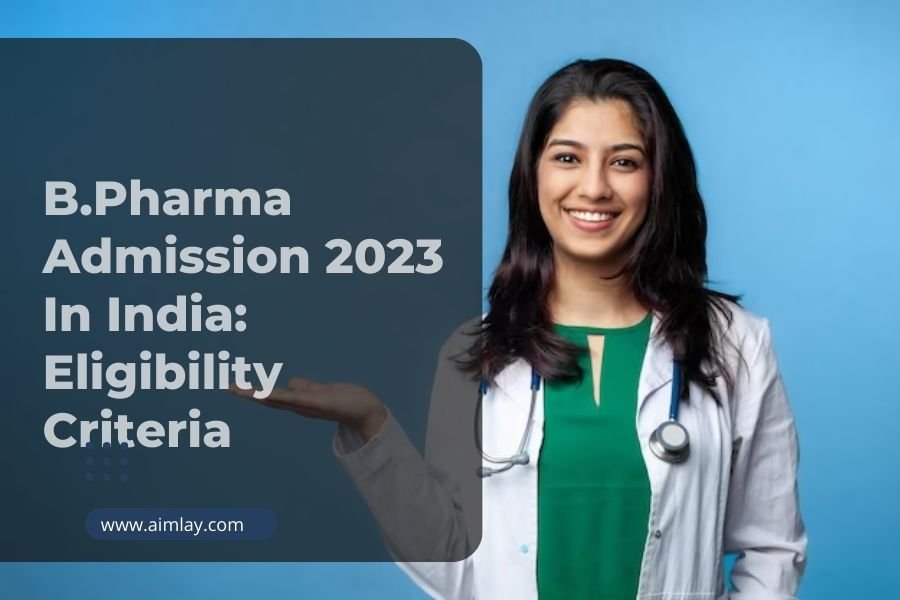 Top Specializations in B.Pharma Admission 2023 In India
B.Pharma offers an array of specializations, allowing students to align their education with their interests. Some popular specializations include Pharmaceutical Chemistry, Pharmacology, Pharmacognosy, Pharmaceutical Technology, and Clinical Pharmacy. Choosing a specialization that resonates with one's career goals is pivotal.
B.Pharma Admission 2023 In India: How to Apply?
Applying for B.Pharma Admission 2023 In India involves a series of steps, including filling out application forms, submitting relevant documents, and paying application fees. Most institutions offer online application facilities to streamline the process and make it accessible to candidates across the country.
Top B.Pharma Best Universities
Several universities across India offer exemplary B.Pharma programs. Some of the top institutions include Jamia Hamdard, Birla Institute of Technology and Science (BITS), National Institute of Pharmaceutical Education and Research (NIPER), and Manipal College of Pharmaceutical Sciences.
B.Pharma Career Aspects and Scope
The field of pharmacy presents a broad spectrum of career opportunities. Graduates can work as community pharmacists, hospital pharmacists, research scientists, pharmaceutical sales representatives, or regulatory affairs specialists. Additionally, pursuing higher education like a Master's or Ph.D. can open doors to advanced roles and research positions.
B.Pharma Admission 2023 in Private College
Private colleges in India also offer B.Pharma programs, often providing distinct advantages such as state-of-the-art facilities, industry connections, and a unique approach to education. However, candidates need to carefully evaluate factors like tuition fees and placement opportunities before opting for a private institution.

B.Pharma Admission Tips 2023
To successfully navigate the B.Pharma admission process, aspiring candidates should prioritise early preparation, comprehensive study plans, and time management. Mock tests and previous years' question papers can help familiarize students with the exam pattern and boost their confidence.

In conclusion, B.Pharma Admission 2023 In India demands careful planning, preparation, and understanding of the admission process. Aspiring pharmacists should keep abreast of entrance exam schedules, eligibility criteria, and other essential details to secure a spot in one of India's prestigious pharmaceutical institutions. With dedication and informed choices, students can embark on a rewarding journey in the field of pharmacy.
Frequently Asked Questions