Table of Content
1. Introduction About M.Sc Admission 2023 in India
2. Understand M.Sc Admission 2023 in India Requirements
3. Prepare Your Documents for M.Sc Admission 2023 in India
4. Eligibility Criteria for M.Sc Admission 2023 in India
5. 10 best Universities for M.Sc admission 2023 in India
6. Fee Structure for M.Sc Admission 2023 in India
7. Procedure for M.Sc Admission 2023 in India
8. Submitting Your Application for M.Sc Admission 2023 in India
9. Prepare for Interviews for M.Sc Admission
10. Conclusion
11. Frequently Asked Questions
Introduction About M.Sc Admission 2023 in India
The journey towards a Master of Science (M.Sc) degree is an exciting and transformative experience. As the academic landscape evolves. So do the methods and requirements for securing admission to top-notch M.Sc programs. If you're considering pursuing an M.Sc Admission 2023 in India, this guide is here to provide you with valuable insights and tips to help you successfully navigate the admission process.
The first step in your M.Sc admission journey is to research potential programs. Look for universities that offer M.Sc degrees in your field of interest. Pay attention to program rankings, faculty expertise, available research opportunities and the curriculum. Consider factors like location, funding opportunities and potential for future career growth.
Understand M.Sc Admission 2023 in India Requirements
Each M.Sc program has its unique admission requirements. Common components often include transcripts, letters of recommendation. A statement of purpose and standardized test scores (such as the GRE or GMAT). Be sure to thoroughly understand the specific prerequisites for each program you're applying to, as they may vary widely.
Prepare Your Documents for M.Sc Admission 2023 in India
Start early to gather all the necessary documents. Transcripts from your previous academic institutions, letters of recommendation from professors or professionals who can confirm your skills and potential and a well-crafted statement of purpose that outlines your academic and career goals are essential components. Make sure these documents highlight your strengths and align with the goals of the program.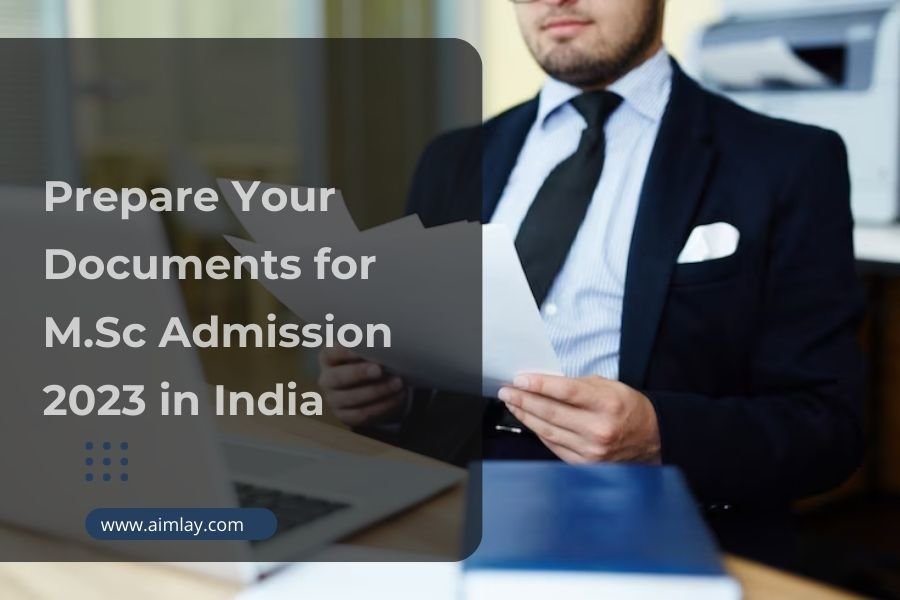 Eligibility Criteria for M.Sc Admission 2023 in India
Eligibility criteria for M.Sc. (Master of Science) programs can vary depending on the university, country and specific field of study. However, there are some common eligibility requirements. That are often found across many M.Sc programs. Keep in mind that these criteria can change over time and may differ based on the institution and program you're applying to. It's crucial to refer to the official website of the university and program for the most accurate and up-to-date information. Here are some general eligibility criteria for M.Sc programs:
Educational Background:
a) A bachelor's degree is required. The field of study should be related to the M.Sc. program you're applying for.
b) The degree should be from a recognized and accredited institution.
Minimum GPA:
Many universities have a minimum Grade Point Average (GPA) requirement for M.Sc. admission. This GPA requirement can vary. But it's often around 2.7 to 3.0 on a 4.0 scale.
Specific Coursework:
Some M.Sc. programs might require applicants to have completed specific prerequisite courses or coursework relevant to the field. For example, if you're applying for an M.Sc in Computer Science. Having a background in computer programming and mathematics might be necessary.
Language Proficiency:
If the language of instruction at the university is not your native language. You might need to demonstrate proficiency in that language through standardized tests like TOEFL (Test of English as a Foreign Language) or IELTS (International English Language Testing System).
Letters of Recommendation:
Some programs require letters of recommendation from professors or professionals who can confirm your academic abilities, skills and potential to succeed in the program.
Statement of Purpose:
A well-written statement of purpose that outlines your academic and career goals, reasons for pursuing the M.Sc., and how the program aligns with your aspirations is often a requirement.
Standardized Tests:
Depending on the program and institution, standardized test scores might be required. The GRE (Graduate Record Examination) is commonly required for many M.Sc programs, especially in the United States.
Work Experience (if applicable):
Some programs, particularly those in fields like business and management, might require applicants to have relevant work experience in addition to their academic qualifications.
Research Experience (if applicable):
For research-oriented M.Sc. programs, having research experience, publications or a strong academic background in research can be advantageous.
Interview (if applicable):
Certain programs may require an interview as part of the selection process. This could be an in-person interview or conducted via video conferencing.
10 best Universities for M.Sc Admission 2023 in India
Here are 10 best universities for M.Sc. admission 2023 in India that are known to offer M.Sc. programs:
Mangalayatan university (Aligarh)
Amity University – Noida, Uttar Pradesh
Sunrise University – Alwar (Rajasthan)
Manav Rachna – (Haryana)
Arunachal university – (Arunachal Pradesh)
Chandigarh University – (Punjab)
Uttaranchal University – (Uttaranchal)
Hindustan university – (Tamil Nadu)
Subharti University – (Meerut)
DPU University – (Pune)
Fee Structure for M.Sc Admission 2023 in India
Additionally, the fees for M.Sc Programs can be based on the college you are interested in.
Approximate average fee's structure
Around 50,000 – 3,00000
Procedure for M.Sc Admission 2023 in India
M.Sc is one of the most demanding courses in their field. The following steps provide an explanation of the procedure. Which is quite simple. The process can be explained in the steps listed below.
The first step is to check the official website of the university, keep a good track of the website and all the important notifications pop up there.
Complete the application in accordance with the date after it has been notified. The cost of admission and the final date of admission will be noted.
After submitting the form, check the website frequently for updates on the merit list or the date of the entrance exam. The date will be announced there.
Take your entrance exam or see the merit list on the specified day.
Follow the university's rules after meeting the eligibility requirements for BA admission to India in 2023.
Only a small number of colleges conduct interviews in addition to BA admission 2023 in India. It should be mentioned.
The candidates who fall under the reserved quota must review their instructions on the website and prepare their paperwork properly.
Submitting Your Application for M.Sc Admission 2023 in India
Carefully review each application before submitting to avoid errors. Keep track of deadlines and submission requirements. Submit well ahead of deadlines to avoid last-minute technical glitches.
Prepare for Interviews for M.Sc Admission
As part of the admissions process, some programs may require an interview. Review your application materials, investigate the program, and practice common interview questions to prepare. Approach the interview as an opportunity to showcase your enthusiasm and fit for the program.
Conclusion
Embarking on an M.Sc the admission journey requires careful planning, research and dedication. By thoroughly understanding the requirements of each program, showcasing your strengths, and preparing diligently, you can increase your chances of securing admission to the M.Sc program that aligns with your aspirations. Remember, the process may be challenging. But it's a significant step towards achieving your academic and career goals.
Frequently Asked Questions