Table of Content
1. Introduction About B.Sc Admission 2023 in India
2. Choosing Your Field of Study 
3. Eligibility for B.Sc Admission 2023 in India  
4. Standardized Tests 
5. Crafting an Impressive Application
6. The Process for B.Sc Admission 2023 in India  
7. 10 best Universities for B.Sc Admission 2023 in India 
8. Fee structure for B.Sc Admission 2023 in India 
9. Conclusion
10. Frequently Asked Questions
Introduction About B.Sc Admission 2023 in India
The journey of higher education is an exciting and pivotal moment in every student's life. Pursuing a Bachelor of Science (B.Sc) degree opens doors to a world of opportunities, paving the way for academic growth, personal development and a future career. As the landscape of education continually evolves, understanding the nuances of B.Sc Admissions becomes crucial for aspiring students. This blog aims to provide a comprehensive guide to help you navigate the B.Sc admissions process with confidence.
Choosing Your Field of Study
Before delving into the admissions process, it's essential to determine the field of study that aligns with your interests, strengths and career aspirations. B.Sc programs offer a wide range of disciplines, including but not limited to, physics, chemistry, biology, mathematics, computer science, environmental science and psychology. Research the various options, considering factors like subject matter, future career prospects and personal preferences.
Eligibility for B.Sc Admission 2023 in India
Each institution sets its own admission requirements and eligibility criteria. Common prerequisites may include a minimum GPA, standardized test scores (like SAT or ACT), letters of recommendation, a personal statement or essay and sometimes a portfolio showcasing relevant work (for creative fields like art or design). Carefully review the admission guidelines of each institution to ensure you meet the necessary criteria.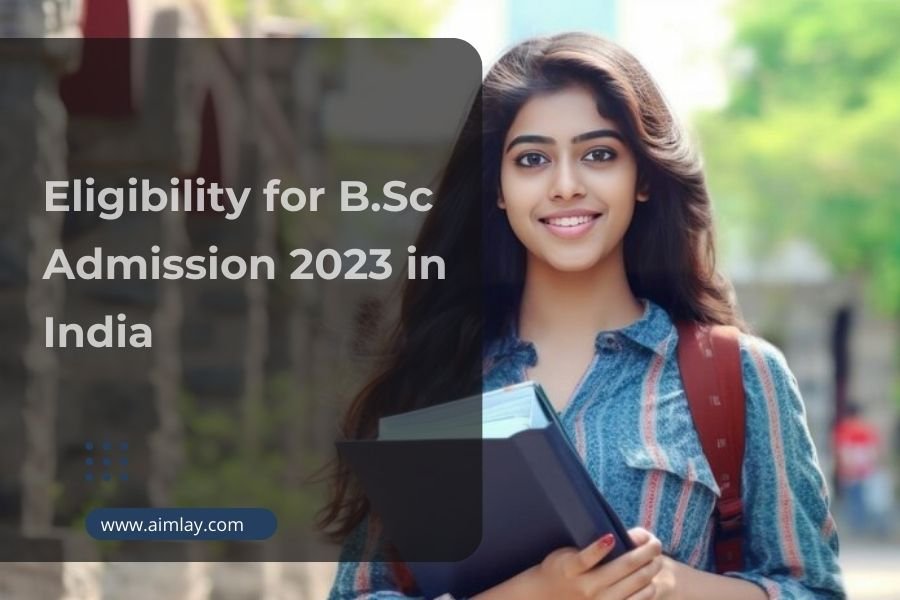 Standardized Tests
Standardized tests are a crucial component of many B.Sc admissions processes. These tests test your ability and your readiness to pursue higher education. Depending on the program and institution, you may need to take exams such as the SAT, ACT, GRE (for some advanced programs), or subject-specific tests like the SAT Subject Tests in math or science. Prepare thoroughly by using study materials, practice tests and possibly enrolling in preparatory courses.
Crafting an Impressive Application
Your application is your chance to showcase your achievements, aspirations and unique qualities. Craft a compelling personal statement that highlights your passion for the chosen field, your academic achievements, relevant experiences, and your vision for the future. Be sincere, authentic, and specific in your responses. Tailor your application to each institution by emphasizing how their program aligns with your goals.
The Process for B.Sc Admission 2023 in India
Research and Choose Programs: Begin by researching the universities or colleges that offer B.Sc programs in your desired field of study. Look into the courses, curriculum, facilities, faculty and any other relevant information to make an informed decision.
Examine the eligibility criteria: Read the criteria for eligibility to the B.Sc programs you are interested in. This may include minimum academic qualifications, subjects studied in high school and any specific entrance exam requirements.
Entrance Exams (if applicable): Some universities or colleges might require you to take an entrance exam as part of the admission process. These exams could be at the national, state, or university level. Common entrance exams for B.Sc programs in India include JEE Main (for engineering and science programs) and NEET (for medical and related programs).
Application Form: Fill out the application form for the B.Sc program of your choice. Most universities offer online application options. Make sure to provide accurate information and follow the instructions provided by the institution.
Submission of Documents: You will likely need to submit various documents along with your application. These might include:
High school transcripts or equivalent certificates
Entrance exam scorecards (if applicable)
Identity proof (e.g., Aadhar card, passport, etc.)
Passport-size photographs
Caste certificate (if applicable)
Any other documents specified by the university
Merit List/Entrance Exam Results: After the application deadline, the university will release a merit list based on academic performance and entrance exam scores (if applicable). If there are multiple rounds of admissions, the merit list may be released after each round.
Counseling and Seat Allotment: If the university follows a counseling process, shortlisted candidates will be called for counseling sessions. During counseling, you may have the opportunity to choose your preferred course and college based on your rank and availability of seats.
Document Verification: Once you're allotted a seat, you'll need to physically or digitally submit your original documents for verification. This step is crucial to ensure the authenticity of your application.
Admission Confirmation and Fee Payment: After document verification, you'll receive an admission offer from the university. Make sure you pay the admission fee within the time frame specified to reserve your seat.
Commencement of Classes: Once you've completed all the formalities and paid the fees, you can start attending classes as per the university's academic calendar.
Submission and Deadlines: Carefully note the application deadlines for each institution. Missing deadlines could hinder your chances of acceptance. Create a timeline to manage the application process effectively, ensuring all materials are submitted well before the closing dates.
10 best Universities for B.Sc Admission 2023 in India
Here are 10 best universities for B.Sc Admission 2023 in India that are known to offer B.Sc programs:
Mangalayatan university (Aligarh)
Amity University – Noida, Uttar Pradesh
Sunrise University – Alwar (Rajasthan)
Manav Rachna – (Haryana)
Arunachal university – (Arunachal Pradesh)
Chandigarh University – (Punjab)
Uttaranchal University – (Uttaranchal)
Hindustan university – (Tamil Nadu)
Subharti University – (Meerut)
DPU University – (Pune)
Fee structure for B.Sc Admission 2023 in India
I know that the last update was in September 2021. Additionally, the fees for B.Sc Programs can differ significantly based on the college you are interested in.
Approximate average fee's structure
Around 50,000 – 3,00000
Conclusion
The path to B.Sc admissions might seem overwhelming, but with careful planning, thorough research and dedication, you can navigate it successfully. Remember that this journey is not just about getting into a program; it's about shaping your future, expanding your knowledge, and contributing to your chosen field. Approach the process with enthusiasm, authenticity and a commitment to growth and you'll be well on your way to securing a spot in the B.Sc program that aligns perfectly with your aspirations.
Frequently Asked Questions