Table of Content
1. Introduction of B.ED Admission 2023 in India
2. The Importance of a B.ED Degree 
3. Key Aspects of B.ED Admission 2023 in India  
4. Eligibility Criteria for B.ED Admission 2023 in India  
5. Entrance Exams for B.ED Admission 2023 in India
6. Application Tips for B.ED Admission 2023 in India   
7. Application Process for B.ED Admission 2023 in India 
8. 10 best Universities for B.ED Admission 2023 in India  
9. Fee structure for B.ED Admission 2023 in India 
10. Conclusion
11. Frequently Asked Questions
Introduction of B.ED Admission 2023 in India
If you are considering a Bachelor of Education (B.ED.) program 2023 in India, you're taking the first step towards shaping young minds and contributing to the growth of society. This blog aims to guide you through the B.Ed. admission process, helping you to understand the significance of a B.Ed. degree and the steps to secure your spot in a reputable institution. 
A Bachelor of Education (B.Ed.) is an undergraduate academic program designed to prepare individuals for a career in teaching. Whether you're interested in teaching at the elementary, secondary, or higher education levels, a B.Ed. is often a mandatory requirement. This program not only covers educational methods but also delves into curriculum development, classroom management, educational psychology and more. It's the cornerstone of a teacher's professional journey.
The Importance of a B.Ed Degree
A B.Ed. degree is a vital qualification for those aspiring to become professional educators. It equips you with educational skills, teaching methodologies, classroom management techniques, and a deep understanding of educational psychology. A B.Ed program ensures that educators are equipped to cater to diverse learning needs and employ innovative teaching strategies. This degree not only imparts theoretical knowledge but also emphasizes practical teaching experiences, making your classroom ready.
Key Aspects of B.Ed Admission 2023 in India
Research Institutions: Begin by researching various universities and colleges that offer B.Ed. programs. Look into their reputation, accreditation, faculty expertise and program curriculum.
Personal Statement or Statement of Purpose (SOP): Some institutions may ask for a SOP as part of the application process. This is your chance to showcase your passion for teaching, your educational philosophy and why you're the right fit for their program. Be sincere and concise in your writing.
Letters of Recommendation: Strong letters of recommendation from professors, employers or mentors can significantly enhance your application. Choose individuals who can attest to your academic abilities, work ethic and suitability for a teaching career.
Interviews: Certain institutions conduct interviews to assess your communication skills, teaching aptitude and suitability for the program. Prepare by researching common interview questions, practicing your responses and highlighting your enthusiasm for teaching.
Merit Lists: Based on entrance exam scores, academic performance and other criteria, institutions will release merit lists. Meeting the cutoff score is crucial for securing a seat in the program.
Eligibility Criteria for B.Ed Admission 2023 in India
Each institution has their own set of eligibility requirements. Generally, candidates must have completed a bachelor's degree in any discipline from a recognized university with a minimum specified percentage. Some universities may also require you to have studied certain subjects at the undergraduate level.
Entrance Exams for B.Ed Admission 2023 in India
Many institutions require candidates to clear specific entrance exams to qualify for admission. These exams assess your aptitude in teaching, reasoning, general knowledge, and teaching-related subjects. Prepare thoroughly by practicing sample papers and utilizing study resources.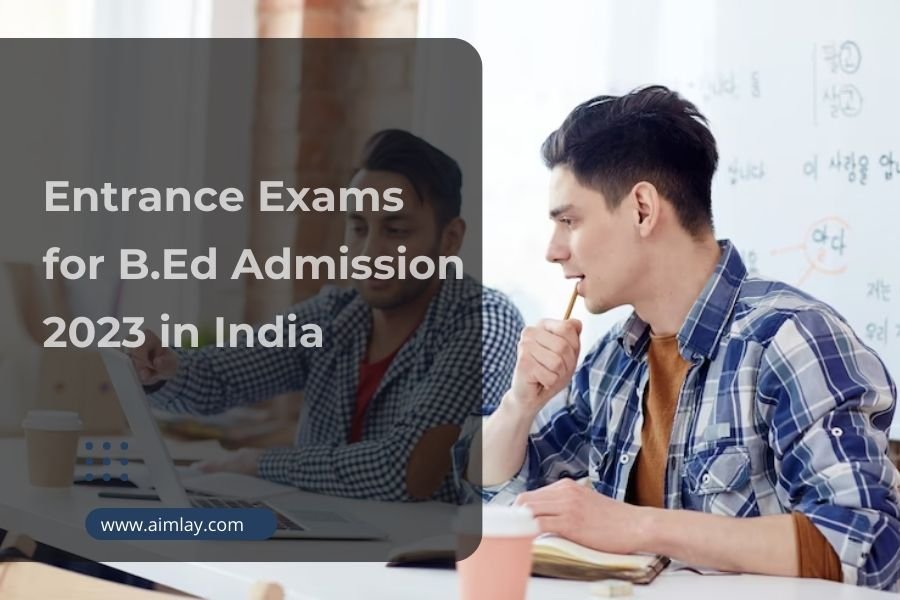 Application Tips for B.Ed Admission 2023 in India
Plan: B.Ed. admissions often have specific timelines. Research application deadlines for each institution and ensure you have ample time to gather required documents.
Gather Documents: Collect all necessary documents such as academic transcripts, certificates, ID proof, photographs and any other required forms.
Prepare for Entrance Exams: If the program requires an entrance exam, start preparing well in advance. Utilize study materials, join coaching classes if needed and practice regularly.
Craft an Impressive SOP: Your SOP should reflect your genuine interest in teaching, your educational aspirations and your commitment to the field.
Practice Interviews: If interviews are part of the admission process, practice with a friend or family member. Work on your communication skills and prepare answers to common interview questions.
Application Process for B.Ed Admission 2023 in India
The application process for B.Ed Admission 2023 in India generally includes these steps:
Research: Begin by researching the universities or institutions that offer B.Ed. programs. Consider factors like reputation, faculty, infrastructure and placement opportunities.
Application Form: Go to these official web sites for the selected institutions to find applications forms. Input accurate details about the details of your personal information, education qualifications, and more.
Documents: Prepare the necessary documents, such as mark sheets, certificates, identity proof and passport-sized photographs.
Fees for Application Payment You must pay the application fee in accordance with the specifications of the institution. Most payment methods include online options like debit/credit cards or online banking.
10 best Universities for B.Ed Admission 2023 in India
Here are 10 best universities for B.Ed Admission 2023 in India that is known to offer B.Ed. programs:
Mangalayatan university (Aligarh)
Amity University – Noida, Uttar Pradesh
Sunrise University – Alwar (Rajasthan)
Manav Rachna – (Haryana)
Arunachal university – (Arunachal Pradesh)
Chandigarh University – (Punjab)
Uttaranchal University – (Uttaranchal)
Hindustan university – (Tamil Nadu)
Subharti University – (Meerut)
DPU University – (Pune)
Fee structure for B.Ed Admission 2023 in India
My knowledge is that it was last updated in September of 2021. Additionally, the fees for B.Ed. Programs can differ significantly based on the particular school or college you are interested in.
Approximate average fee's structure
Around 50,000 – 3,00000
Conclusion
B.Ed. Journey in 2023 is a significant step towards realizing your dream of becoming an educator. As you navigate the admission process, remember that your dedication to learning and your passion for teaching will set you apart. By selecting a reputable institution, understanding the admission requirements and demonstrating your commitment to education, you can embark on a transformative journey that will prepare you to make a positive impact on the lives of future generations. Securing admission to a B.Ed program is a significant step towards your dream of becoming an educator. Approach the process with dedication, thorough research and careful preparation. Remember that the journey to becoming a teacher is not just about academic qualifications; it's about your passion for shaping young minds and making a positive impact on education. With the right approach, you can successfully navigate the path to B.Ed admission and set the foundation for a fulfilling career in teaching.
Frequently Asked Questions